Miharashiya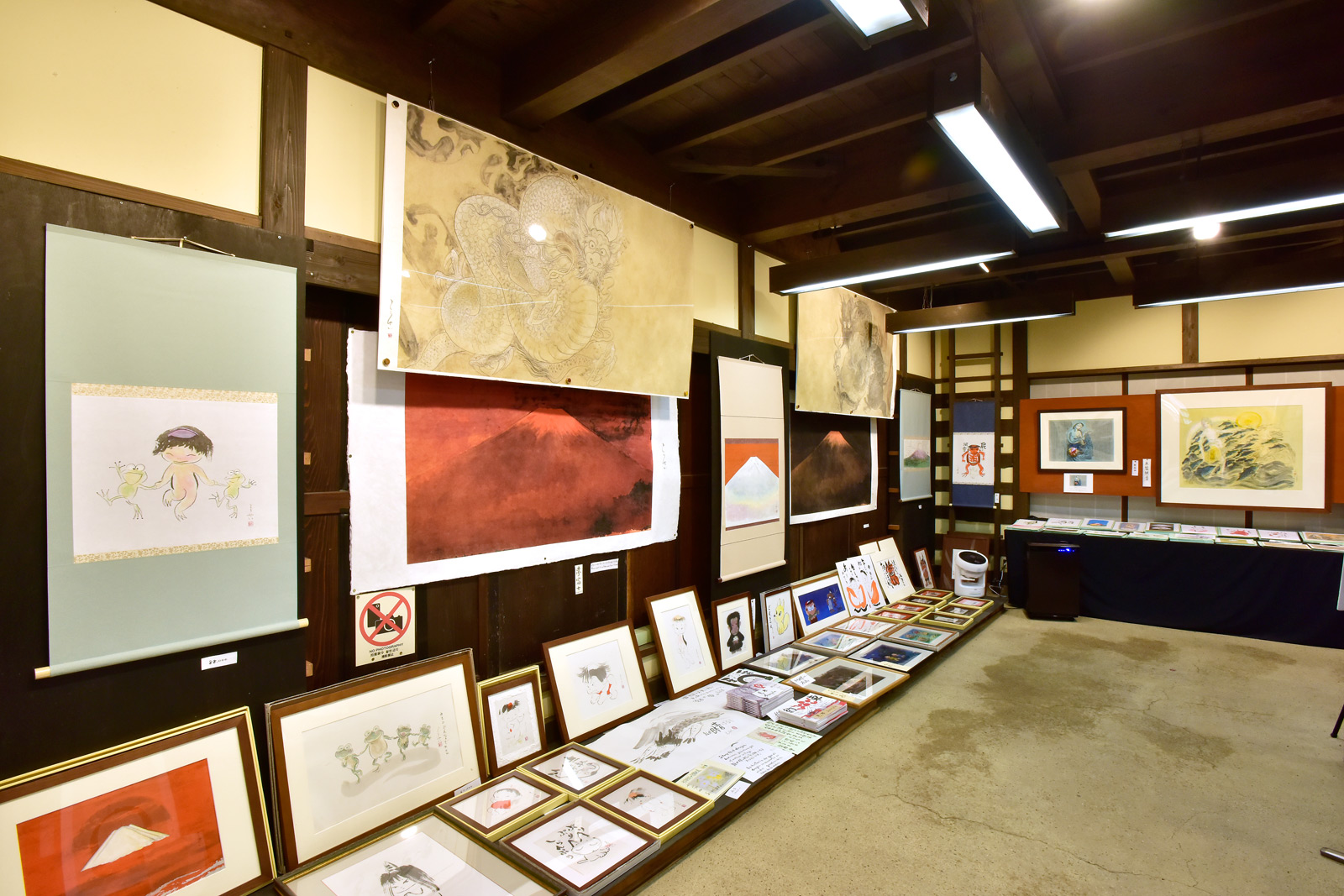 Miharashiya will be closed on Friday, August 4, 2023.We apologize for the inconvenience and appreciate your understanding.
This is an exhibition of original paintings by Kosei Maeda, an artist living in Fujiyoshida City.
Maeda is a local artist who is originally from Fujikawaguchiko Town.After graduating from high school, he moved to Tokyo and joined the Mushi Production animation studio, where he worked under manga artist Osamu Tezuka before becoming independent.He was involved in the production of the nationally famous anime series Manga Nippon Mukashi Banashi (Japanese Folk Tale Animations). During the 16 years since the series was first broadcast in 1979, he worked on as many as 90 titles in the series as an animator and director.
Inside this quaint two-story building, you will find countless artworks on display, including the original paintings of famous scenes from Manga Nippon Mukashi Banashi, large paintings themed around Mt. Fuji and Konohana no Sakuyahime no Mikoto (goddess of Mt. Fuji and volcanoes in Japanese mythology), and ink paintings depicting children and kappa (mythical creatures).Episodes of Manga Nippon Mukashi Banashi, which are nostalgic to many people in Japan, are also shown on video.
Meanwhile, on the second floor, you will find a large window with a spectacular view of Mt. Fuji and the seasonal landscape of the village, from which this building derives its name.Spend a peaceful moment in this comfortable wooden room while admiring the artwork.
The building also houses Maeda's studio, and if you are lucky, you may be able to interact with Maeda himself.
We hope you will thoroughly enjoy the world of Kosei Maeda, whose humorous illustrations soothe the hearts of those who view them.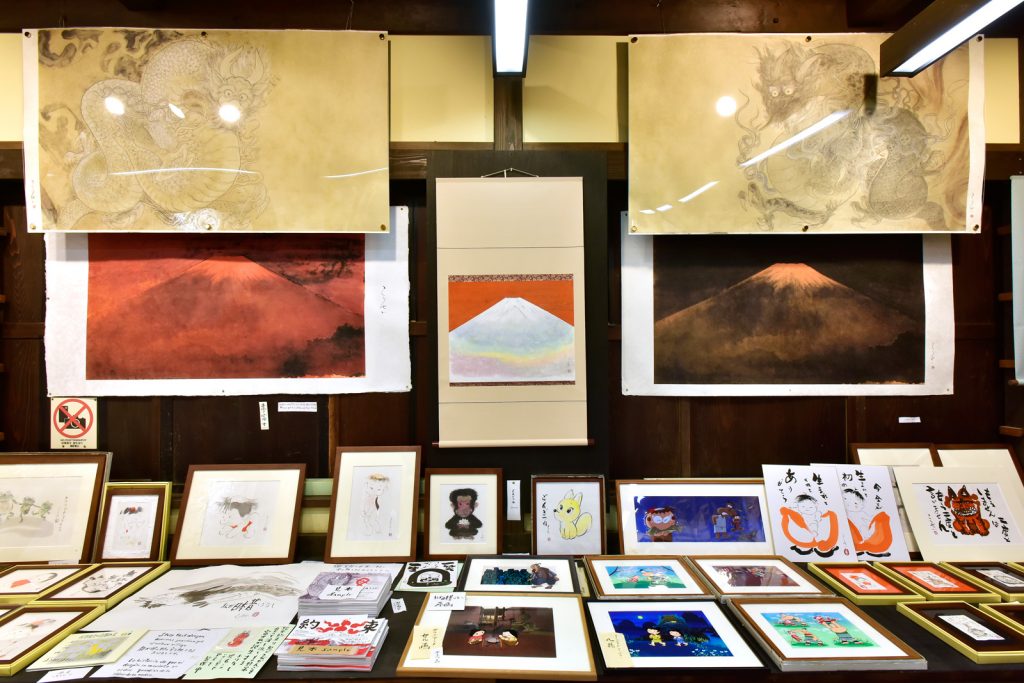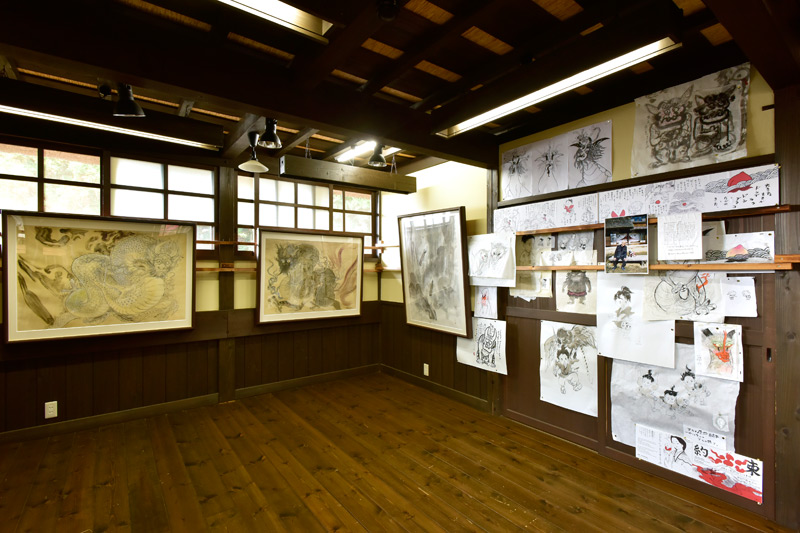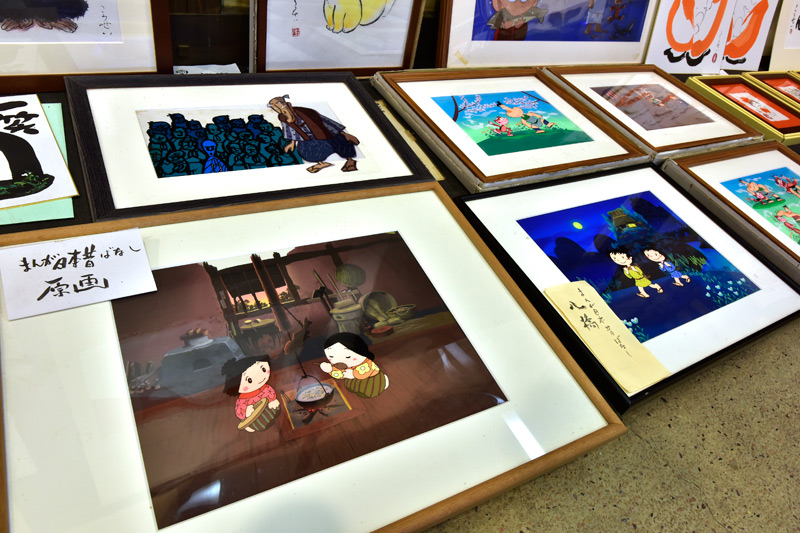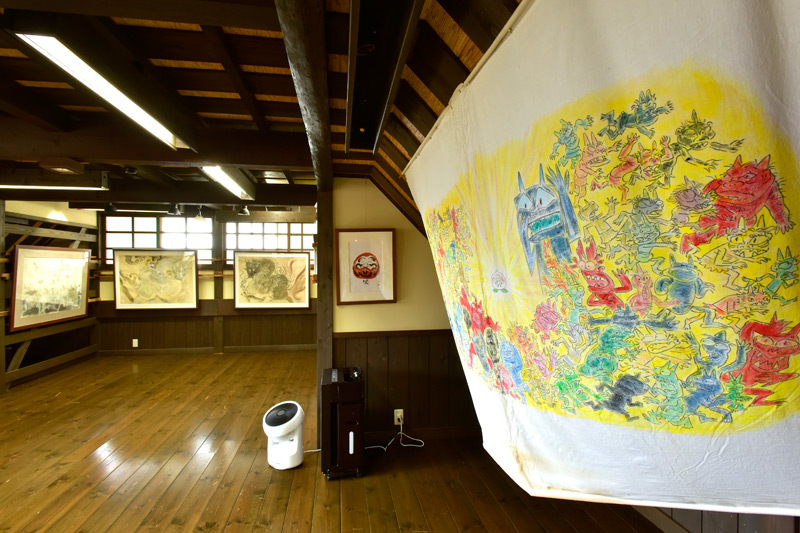 Kosei MAEDA's History
1950
Born in Fujikawaguchiko Town, Yamanashi Prefecture
1969
Joined Mushi Production
1979-
In charge of illustrating and directing the Aikikaku TV series Manga Nippon Mukashi Banashi.
Worked on 90 titles in about 16 years.
1985
Director of Gon, the Little Fox, a feature film commemorating the 10th anniversary of the TV series.
1991
Director of White Horse (Morin Khuur), a film by Gakken Osaka.
1992
Held first solo exhibition, titled "Shijukara (Japanese tit)."Began to paint ink paintings thereafter.
1995-
Produced three collections of Fuji Goko Furusato Mukashi Banashi (Fuji Five Lakes Local Folk Tales), Katsuyama Village's Furusato Shinwa (Local Myths), etc.
2001
Directed and illustrated the Sanrio Video Masterpiece Series.
2002
Director of Sekai Ichi Utsukushii Boku no Machi (My Town is the Most Beautiful in the World) and Boku no Mura ni Sakasu ga Kita (The Circus Came to My Town) by Toei Education.
2003
Worked on numerous titles over many years, including illustrating and directing Mushi Production's Nipponia-Nippon Into The Future From This Earth: Jomon, Yayoi, Nara, Edo Periods.
Held solo exhibitions in various locations, including "Ima no Mukashi Ten (Now and Then)" (2009) at the Yamanashi Prefectural Museum of Art and "Hokuroku Art File 2010" (2010), a special exhibition at the Kawaguchiko Museum of Art.
2015
Became a visiting professor at the Kobe Design University (present).
Visit Kosei Maeda's website here: