Takumiya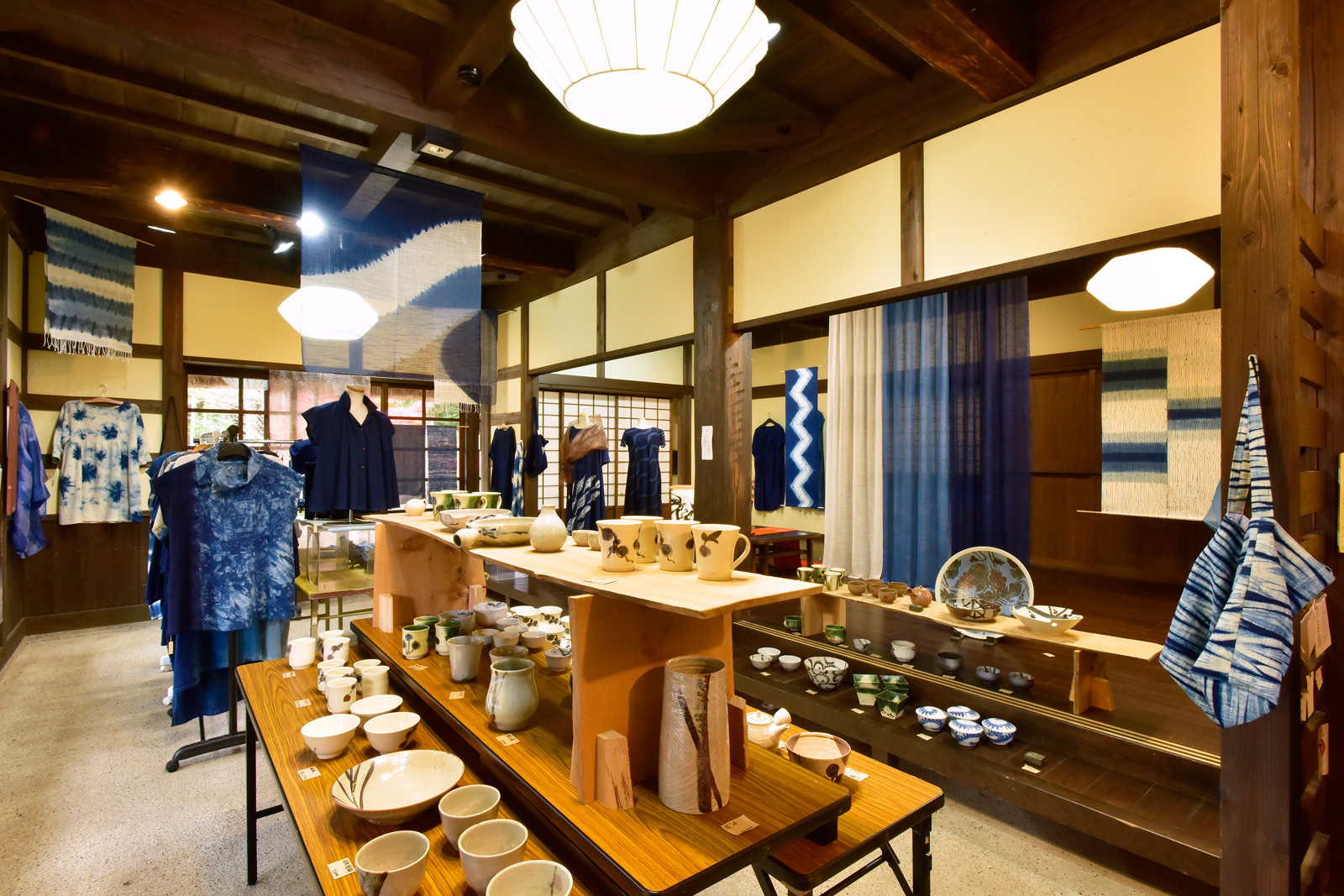 This gallery is run by ceramic artist Hisashi Yoneyama and indigo dyeing artist Nobuko Yoneyama.Special exhibitions featuring other craftspeople active in Yamanashi Prefecture are held as needed.
Besides new works by both artists, each show presents a wide variety of content, from ceramics and dyed products to creations made of wool, fabric, stone, and wood, all of which are worth seeing.You can also purchase any items you like on the spot.
Enjoy discovering traditional crafts unique to Japan and ambitious works by contemporary artists in this quaint gallery steeped in the beauty of old Japan.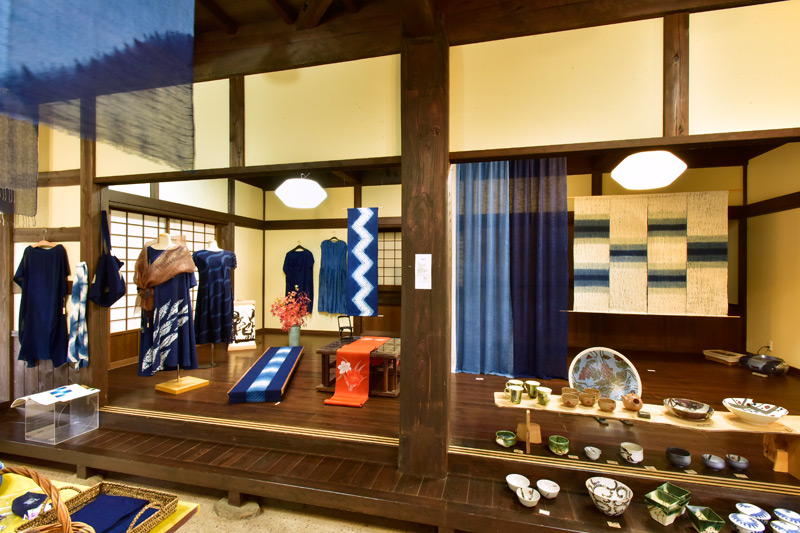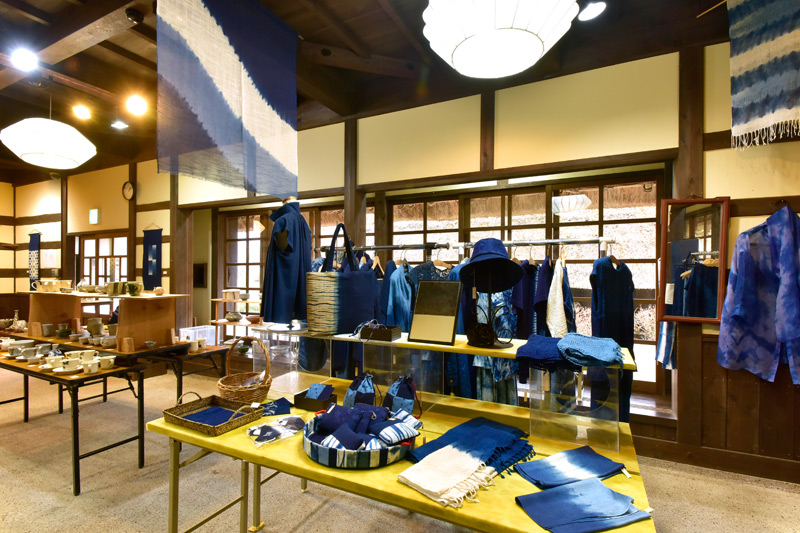 Current Special Exhibition
2023 Special Exhibition Schedule
March 4 (Sat) – April 30 (Sun)
Indigo Dyeing and Ceramics Duo Exhibition
Indigo Dyeing: YONEYAMA Nobuko / Ceramics: YONEYAMA Hisashi
May 3 (Wed) – July 7 (Fri)
Summer Sparkle
☆
Trio Exhibition
Ceramics: TSUJI Yuko and others
March 6 (Sun) – May 8 (Mon)
Ceramics and Indigo Duo Exhibition
Ceramics: YONEYAMA Hisashi / Indigo Dyeing: YONEYAMA Nobuko
July 10 (Mon) – August 11 (Fri)
Small Breeze, Healing Breeze
Washi Paper Fans: SUGIYAMA Shigeru
August 14 (Mon) – September 14 (Thu)
Ceramics, Stone, and Wood Quartet Exhibition
Ceramics: UJIIE Takanori / Ceramics: UJIIE Masako
Stone Craft: OSANO Tetsuji / Wood Carving: OSANO Miki
September 18 (Mon) – November 17 (Fri)
Ceramics and Indigo Duo Exhibition
Indigo Dyeing: YONEYAMA Nobuko / Ceramics: YONEYAMA Hisashi
November 20 (Mon) – December 30 (Sat)
Woodworking and Ceramics Duo Exhibition
Woodworking: MIZUKAMI Katsuyoshi / Ceramics: YAMAKADO Hiroshi
Past Special Exhibitions (2022)
January 1 (Sat) – January 30 (Mon)
Ceramics and Indigo Duo Exhibition
Indigo Dyeing: YONEYAMA Nobuko / Ceramics: TSUJI Yuko
February 1 (Wed) – March 8 (Tue)
*Exhibition cancelled
Winter Sunshine Exhibition
Glass: SHIRAISHI Seiichi / Fabric Crafts: WATANABE Minami
Ceramics: TSUJI Yuko 
March 6 (Sun) – May 8 (Mon)
Ceramics and Indigo Duo Exhibition
Ceramics: YONEYAMA Hisashi / Indigo Dyeing: YONEYAMA Nobuko
May 11 (Wed) – July 7 (Wed)
Summer Sparkle
☆
Trio Exhibition
Ceramics: TSUJI Yuko and others
July 10 (Sun) – August 11 (Thu)
Small Breeze, Healing Breeze
Washi Paper Fans: SUGIYAMA Shigeru
August 14 (Sun) – September 14 (Wed)
Indigo, Stone, and Wood Work Exhibition
Indigo Dyeing: SATO Fumiko / Stone Craft: OSANO Tetsuji
Wood Carving: OSANO Miki
September 17 (Sat) – November 17 (Thu)
Ceramics and Indigo Duo Exhibition
Ceramics: YONEYAMA Hisashi / Indigo Dyeing: YONEYAMA Nobuko
November 20 (Sun) – February 28, 2023 (Tue)
Winter Sunshine Exhibition
Woodworking: MIZUKAMI Katsuyoshi / Ceramics: YAMAKADO Hiroshi
Fabric Crafts: WATANABE Minami / Ceramics: TSUJI Yuko
Wool: WAKATSUKI Aimi / Glass: SHIRAISHI Seiichi
March 4 (Sat) – April 30 (Sun)
Ceramics and Indigo Dyeing Duo Exhibition
Ceramics: YONEYAMA Hisashi / Indigo Dyeing: YONEYAMA Nobuko